Wulfgar

"I am Wulfgar, son of Beornegar."
Franchise
Dungeons and Dragons
Set
Kreon Warriors (D&D)

Wulfgar (A7711000)

Year
2014
Blind Bag Code
Number of Pieces
26
Allegiance
Companions of the Hall
Resources
Wulfgar is a Kreon Warrior representing the character of the same name from the fantasy world of the Forgotten Realms campaign setting for Dungeons and Dragons. An adventuring companion of Drizzt, Wulfgar is especially notable for his enchanted war-hammer Aegis-Fang, a creation of his adopted father, the dwarf Bruenor Battlehammer.
Product Description
[
]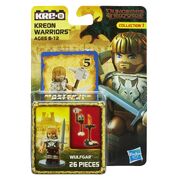 Collect the world and Master the Battle with the Kreon Warriors sets! The barbarian Wulfgar Kreon you'll build with the 26 pieces in this set wields his war hammer and sword. His weapons and helmet hang on the rack you can build! Add another warrior to your Dungeons & Dragons army with this Wulfgar Kreon set! KRE-O and all related characters are trademarks of Hasbro . Hasbro and all related terms are trademarks of Hasbro.
External Links
[
]