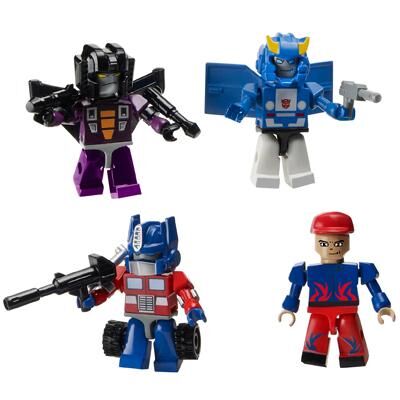 2011
[
]
2012
[
]
2013
[
]
Micro-Changers
[
]
Main article: Micro-Changers
Micro-Changers are Transformers Kreon minifigures that are packaged without additional pieces to build a separate model; unlike kreon-only sets in other sub-lines, these kreons are designed to be put together in 2 or more ways. They're available in individually-packaged blind bag sets that include parts to rebuild the kreon in a "vehicle mode" or "beast mode" configuration, as well as the Combiners series, which include 4 unique kreons and parts to build a larger minifigure using pieces from all the included kreons. As there are currently over 50 in just the blind bag waves, they've been sorted over to their own article.
Combiners
[
]
Ultimate Kreon Collection
[
]
Each set contains five previously released Transformers kreons.
Assortment #A4641
Assortment #A4642
Custom Kreon
[
]
Sets containing a variety of parts to assemble kreons, including chrome silver helmets and translucent helmet, body, and leg pieces, as well as new weapons and equipment. Each set includes a small display rack for holding unused pieces.
Collection 1
[
]
Collection 2
[
]
Promotional
[
]
Unreleased
[
]