Skywarp
is a
Decepticon
Kreon
.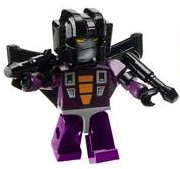 Skywarp does not have an official bio at this time.
Main article: Skywarp (30689)
Character Profile:
Skywarp is a dim-witted decepticon who does and says anything that Megatron tells him to. He also has a mischievous streak and loves to play pranks on his Decepticon buddies. His favorite prank is called the Oil Slick Surprise! It's pretty crude.
Machine Wars Kreon Souvenir Figure Set (Botcon 2013)
Main article: Skywarp (Machine Wars)
Main article: Skywarp (B0090)