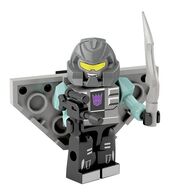 Seawing is a Decepticon Kreon released in wave 3 of the Kreon Micro Changer series. Though Seawing was originally a member of the Seacon combiner team, The Kre-O incarnation of the character is not a component of Decepticon Piranacon.
Character Profile:
(Decepticons) love being the center of attention, but Seawing likes submerging himself deep in the ocean, where he can think without a bunch of distractions. He's not a fan of bright lights, so keep those headlights off. And no littering, either. that's totally not cool.
Notes: In the Kre-O Transformers Character Encyclopedia Seawing is incorrectly referred to as an Autobot. For the purposes of this Wiki, the character profile has been adjusted accordingly.