Battleship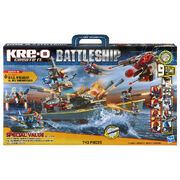 U.S.S. Missouri Alien Showdown
Offered as a Toys 'R' Us exclusive, this set is largely identical to the mass-released U.S.S. Missouri building set, with the addition of an Alien gunship, and Alien glider, and 4 additional alien Kreons, all exclusive to only this set.
Cityville Invasion
No exclusive items exist for this series
Dungeons & Dragons
The entirety of this series is exclusive to Toys 'R' Us, however one item was exclusive to Toys R Us Stores in Malaysia given away free with purchase.
G.I. Joe
The entirety of this series is exclusive to Toys 'R' Us except certain Kreon packs exclusive to G.I.JoeCon.
Star Trek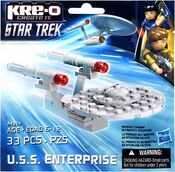 U.S.S. Enterprise (T.O.S.) (Shared Exclusive between Gamestop and San Diego ComicCon 2013)
The Klingon - Starfleet Attack Set is/was exclusive available at Toys ´R Us; and it´s really one of the most epic Star Trek toy sets ever produced.Edit You got 717 pieces to rebuild the U.S.S Enterprise NCC 1701 from the "new timeline" movies from 2009 and Into Darkness and first time offered as a 18" toy version; the Klingon D7 Battle Cruiser!
The Enterprise itself is a re-release from the "Into Darkness" set, wich was first available, but with many battle damage stickers. So you give her a different look, even in fight with the Klingon ship or the Vengeance.
Transformers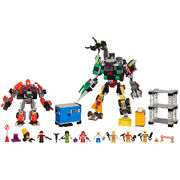 Though started in 2011, this series became exclusive to Toys 'R' Us beginning in 2014.
Autobot Assault Devastator (Toys 'R' Us Exclusive)
As a Toys R Us Exclusive, this release is identical to the Destruction Site Devastator set released at mass retail with the exception that now included is an Ironhide Building Set, "Brickhouse" (Outhouse), and a Gunner Kreon exclusive only to this release. Also exclusive to this set is that the Devastator Kreon is now molded in yellow plastic instead of Green to serve as reference to Devastator's appearance in Generation 2.
Collect all 7 special pieces from exciting series of Kre-O Transformers from 2012, the "Quest for Energon" Building Sets. Combine all 7 special pieces to form the DARK ENERGON WEAPON!
Constructicon Devastator (A1265)
Cast in orange plastic to reference the G2 KayBee exclusive version of Devastator in 1993, this Devastator Kreon was a limited release for Toys R Us stores in Canada in 2012. Not much was known about this kreon prior to it's release at TRU Canada. This kreon can typically go for upwards of $80.00 or more on the secondary market, so if you have one you may want to think twice before opening it.
This set of 4 Kreon minifigures was exclusive to Universal Studios in Orlando, Florida in 2015 to help promote Transformers The Ride. The set retails for $21.95 and is currently still available here .