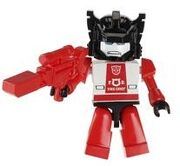 Red Alert is an Autobot Kreon based upon the Generation 1 character.
Character Profile:
Red Alert can be a little overprotective of his Autobot comrades, but it's because he's extremely focused on doing his job as head of security. He greatly values logic and reason, which sometimes makes him hard to deal with. Maybe the poor guy should loosen his thrusters a little?
Kre-O
Bumblebee w/ Bumblebee, Red Alert, and driver Kreons (2011, 336 pieces)
The Bumblebee construction set comes with a Red Alert Kreon. It has a helmet and a blaster.