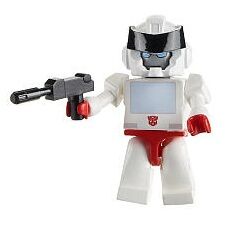 Ratchet's mechanical skills are world renowned, but he doesn't work for free. If you want something done well, you'll have to pay. That is, unless you throw a spider at him. Then he'll just run away.
Official Profile
[
]
I'm a TRANSFORMER, a KREON personality and the best mechanic this side of CYBERTRON. An AUTOBOT needs a new plasma coil or ENERGON inducer? Well, that's going to cost 'em. Don't get me wrong, I love those guys, but I'm not running a charity here. My time and skills have some serious value!
Favorite Pastime: Combing intergalactic thrift shops for vintage KRE-O bricks.
Most Prized Possession: An ENERGON infused assembly schematic of OPTIMUS PRIME.
Biggest Fear: Spiders.
Toys
[
]
Autobot Ratchet (30662)
[
]
Autobot Command Center
[
]
Autobot Ratchet Custom Kreon
[
]
Optimus Prime Dino Hauler
[
]
Ratchet is included in the Optimus Prime Dino Hauler building set alongside an Autobot Driver and two Vehicon Kreons.
Kreon Class of 84
[
]