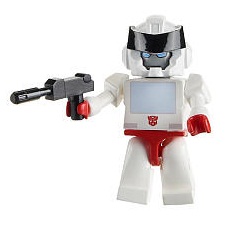 Ratchet's mechanical skills are world renowned, but he doesn't work for free. If you want something done well, you'll have to pay. That is, unless you throw a spider at him. Then he'll just run away.
Official Profile
Edit
I'm a TRANSFORMER, a KREON personality and the best mechanic this side of CYBERTRON. An AUTOBOT needs a new plasma coil or ENERGON inducer? Well, that's going to cost 'em. Don't get me wrong, I love those guys, but I'm not running a charity here. My time and skills have some serious value!
Favorite Pastime: Combing intergalactic thrift shops for vintage KRE-O bricks.
Most Prized Possession: An ENERGON infused assembly schematic of OPTIMUS PRIME.
Biggest Fear: Spiders.
Autobot Ratchet (30662)
Edit
Autobot Command Center
Edit
Autobot Ratchet Custom Kreon
Edit
Optimus Prime Dino Hauler
Edit
Ratchet is included in the Optimus Prime Dino Hauler building set alongside an Autobot Driver and two Vehicon Kreons.
Kreon Class of 84
Edit