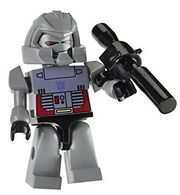 Megatron mostly refers to the character, but can also refer to the Building Set featuring him.
Character Profile
Edit
"I am MEGATRON, the commander of the DECEPTICONS. Most everyone thinks I'm a pretty bad guy. But I'd like to call myself a KREON robot of many talents. Yes, I happen to be the most diabolically evil commander in the universe, but I also have a soft spot for life's finer things. . . like crushing AUTOBOTS!"

Most people think Megatron is a grouchy jerk who lives to annihilate the Autobots. His closest friends know that inside that evil robotic body he's really just a softy who enjoys good television. Oh, and destruction! He loves that.
Favorite Pastime:Reading the "KREON KODE" on my builder's front porch swing.
Favorite Restaurant:Those seafood places that give you a bucket of crabs and a mallet.
Biggest Fear:Being lost in a vast, unorganized box of KRE-O bricks.