Hound is an Autobot Kreon appearing in the Transformers franchise.
Hound Custom Kreon
Edit
This set includes extra pieces and a storage rack to customise your kreon any way you want. This set marks the first single release of the Hound character in Kre-O .
Lockdown Air Raid
Edit
Hound is included in the Lockdown Air Raid building set alongside Lockdown and Sideswipe Kreons.
Custom Kreon Hound (AOE)
Edit
Silver Knight Autobots
Edit
Kreon Class of 1984
Edit
Notes & Trivia=
Edit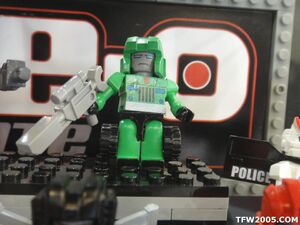 It is assumed that due to the existence of the Crankstart and Bulkhead kreons, that a redeco will likely be released as Hound. Both Crankstart and Bulkhead Kreons bear a striking mold resemblance to Hound. A Hound kreon has been seen at several conventions, but no official release has been announced.