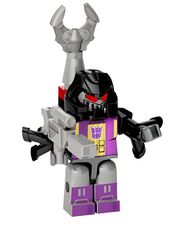 Hardshell is a Decepticon Kreon released in wave 2 of the Kreon Micro Changer series and is based upon the Generation 1 Character "Bombshell".
Character Profile:
(Hardshell) plays with his victims as if they are toys. Watching his enemies break down brings him great happiness. Needless to say, he wasn't voted Sweetest at the KREON King Pageant this year.
Notes: In the Kre-O Transformers Character Encyclopedia Hardshell is incorrectly referred to as "Bombshell". For the purposes of this Wiki, the character profile has been adjusted accordingly.