Eye of Gruumsh

Random monster encounter.
Franchise
Dungeons and Dragons
Set
Kreon Warriors (D&D) Eye

of Gruumsh (A7714000)

Year
2014
Blind Bag Code
Number of Pieces
32
Allegiance
Orc Hordes
Resources
The Eye of Gruumsh is a Kre-O Dungeons & Dragons Kreon Warrior representing devotees of the one-eyed evil orcish god Gruumsh. In particular, it seems to represent the elite Eyes of Gruumsh in the Neverwinter online game, due to being armed with a spear (rather than the typical double-axe of Eyes of Gruumsh in the tabletop Dungeons & Dragons game) and having an association with Vansi, who commanded a number of Eyes among the Many-Arrows tribe of orcs. An Eye of Gruumsh shows their devotion to their god by ritually blinding their right eye; anything that heals their vision cancels their magical powers.[1] This set includes an enormous pet spider, as well as a treasure chest lined with teeth in a possible reference to the shapeshifting Mimic monsters known to disguise themselves as treasure chests and other furnishings.
Product Description
[
]
Collect the world and Master the Battle with the Kreon Warriors sets! The Eye of Gruumsh Orc Kreon you'll build with the 32 pieces in this set wields his horned battle spear. He defends his treasure chest, and you can build a lair for his spider ally. Add another warrior to your Dungeons & Dragons army with this Eye of Gruumsh Kreon set! KRE-O and all related characters are trademarks of Hasbro. Hasbro and all related terms are trademarks of Hasbro.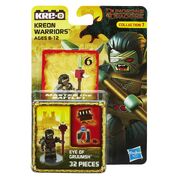 References
[
]