Jurassic World: Dominion Dominates Fandom Wikis - The Loop
Play Sound

The Kre-O Dungeons & Dragons franchise (which premiered in January of 2014) includes several building sets, as well as blind-bagged Army Builder kreons and individually packaged Kreon Warriors based on characters and concepts from the history of the Dungeons and Dragons franchise. Gaming company Wizards of the Coast—owners of the D&D brand and associated characters—was purchased by Hasbro in September of 1999,[1], making this yet another Kre-O franchise based on concepts directly owned by Hasbro.
Among the building sets, three are promoted as Battle Starter Packs: the Wallbreaker Javelin, Knight's Catapult, and Orc's Crossbow sets. Besides these, there are the larger Battle Outpost, Battle Fortress, and Fortress Tower sets representing human fortifications under siege by orcs.
Gameplay
[
]
The Dungeons and Dragons line adds a new play element to Kre-O construction sets by including rules for competitive gameplay, featuring the kreons, missile or ball-launching weapons, and included Character Cards and Challenge Cards.
One Character Card is included for each Kreon in a set, with "evil" characters like orcs and the tiefling having red-bordered Character Cards with an orcish shield on the back, and "good" characters like humans having blue-bordered cards with the back showing a blue circular shield emblazoned with a dragon's head.
Product Info
[
]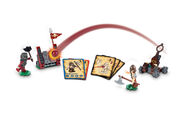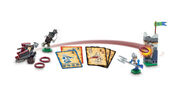 The KRE-O DUNGEONS & DRAGONS Battle Starter Pack will prepare you for the ultimate KRE-O DUNGEONS & DRAGONS battle with a buildable, firing weapon and target to hone your sharpshooting skills. Each pack also includes two DUNGEONS & DRAGONS KREON figures with KREON cards and three DUNGEONS & DRAGONS Challenge Cards providing challenges to practice your skills and MASTER THE BATTLE! Three Starter Packs to collect. Each pack sold separately. (Approximate Retail Price: $8.99; Ages: 7 & up; Pieces: 60-75; Available: January 2014)
References
[
]