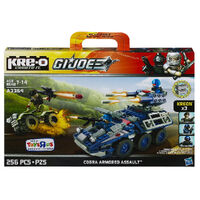 Build the best G.I. Joe adventures with this awesome Kre-O G.I. Joe Playset - Cobra Armored Assault! Use the 257 pieces in this set to build an enormous tank with 2 firing missiles, a rotating turret and a weapons rack. Put your Cobra Officer Kreon figure at the controls and your Heavy Cobra Trooper in the turret! Will your Flint Kreon figure be able to escape in his 4x4 vehicle? Launch each vehicle's missiles at each other! Get the G.I. Joe battle going with this incredible Cobra Armored Assault set!
The Kre-O G.I. Joe Playset - Cobra Armored Assault features:
Build an enormous tank and a 4x4 vehicle with this 257-piece Kre-O set!
Tank has 2 firing missiles!
Rotating turret!
Opening hatch!
Weapons rack
4x4 vehicle has 1 firing missile!
Includes 3 Kreon figures.
Flint, Cobra Officer and Heavy Cobra Trooper figures come with weapons.
Building set works with major brands.