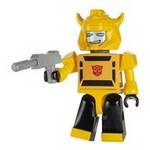 Bumblebee is an unstoppable party machine who loves playing pranks on his unsuspecting Autobot buddies. And if there's a human party around, he'll crash it and stay till the break of dawn (or at least until he has to fight again). That's just how he rolls.
Official Description
Edit
'Sup? I'm BUMBLEBEE, and I'm just about the coolest KREON character you'll ever meet. When I'm not punking the other AUTOBOTS, I like to spend my time cruising the freeway at top speed, hunting for the ultimate source of ENERGON.
Hobbies: Pranking PROWL and speeding!
Favorite Hangout: Anywhere there are lots of humans and loud music!
Big Plan: To form a block-rockin' band. And also learn how to brick-surf.
Bumblebee (31144)Edit
Bumblebee (36421)Edit
Stealth BumblebeeEdit
Energon BumblebeeEdit
Battle Net BumblebeeEdit
Autobot Command CenterEdit
Custom Kreon BumblebeeEdit
Cell Block BreakoutEdit
Galvatron Factory BattleEdit
Custom Kreon Bumblebee (AOE)Edit
A second Custom Kreon based on Bumblebee's film likeness.
This set includes a Bumblebee Kreon as well as Kreons for Optimus Prime , Stinger , Nemesis Prime , and a Scientist .
References
Edit